How to boost sales via Internet – how to use Internet Marketing in practice?
Before we get to the main part of the our ultimate guide on increasing sales through an online channels, let me introduce you to the definition of internet marketing, because the term is very broad and often simplified or used too generally.
Internet marketing is a form of marketing operating in the internet environment. Using modern communication technologies and you like social media, websites or search engines, we are able to reach a group of customers who may be interested in our products or services.
Internet marketing is a part of e-commerce, and the the basic goal of internet marketing is of course to increase sales of a product or service – directly through sales via an online channel, or indirectly through an increase in brand awareness or product recognition.
In view of the above, we can define Internet marketing as a process aimed at increasing the company's interest in a brand or product and reaching groups that are a potential target group among internet users.
Internet marketing activities cover many areas. We can divide them into direct actions – allowing to obtain network traffic and thus real users visiting our website in order to get acquainted with our offer.
We can achieve this by: running advertising campaigns in social media, search engines such as Google or Bing, placing our ads on partner sites, e.g. in Google Ads or media.net, conducting e-mail campaigns or working directly with users – that could become your customer in the future.
The second group of activities includes indirect actions that are aimed at improving the quality of your resources published on the internet, i.e. websites, films, mobile applications, and your visibility in search engines.
The goal of all these activities is to get more organic traffic.
What is organic traffic?
It is a natural free traffic generated by users in social media, links on external websites as well as from search engines excluding paid campaigns.
Optimization activities related to SEO and optimization of websites for mobile devices allow you to directly increase the position in the search engine when viewing query results.
In turn, taking care of content and providing potential clients with interesting material published via the internet is part of the so-called content marketing.
Marketing over Internet – direct and indirect

components
Here is our diagram that shows all components and actions which are the part of Internet marketing and s  should be considered holistically when planning marketing activities.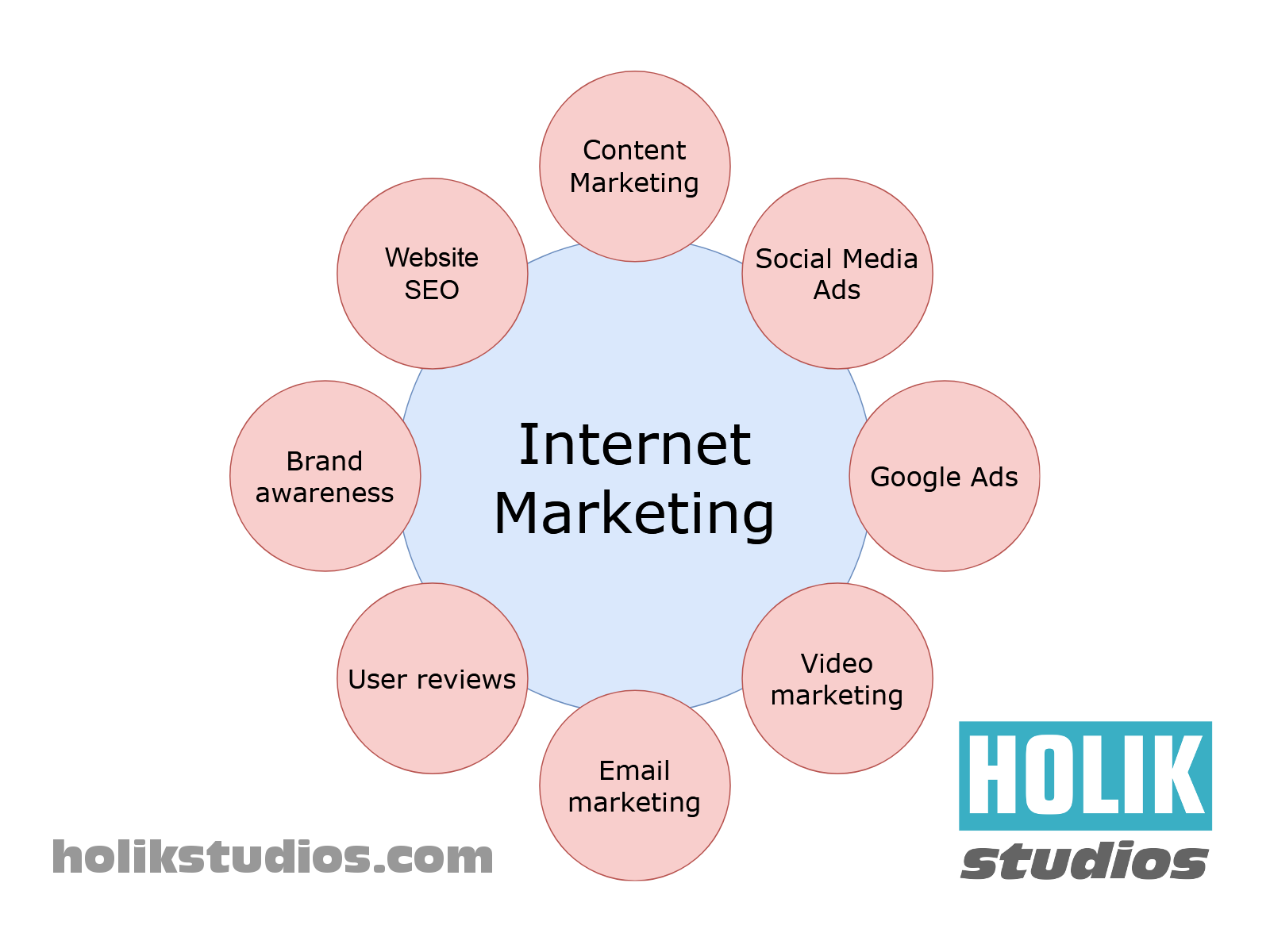 According to the diagram above, Internet marketing consists of the following elements:
Content Marketing
Technical website improvements like SSL, Syntax, Loading speed, redirections, duplicates
Social Media Ads Campaigns like Facebook, LinkedIn, Twitter
Search Engine Ads Campaigns – Google , Bing
Google Ads (Partner's websites campaigns) and Media.net Ads
Video marketing (YouTube, Facebook Video, LinkedIn etc)
E-mail marketing
User reviews  analytics
Brand awareness in the Internet
How to effectively evaluate the effectiveness of Internet marketing activities?
Now that you know the elements that are part of Internet marketing, you should think about the methods of their evaluation and optimization.
The process of improving sales results based on Internet channels involves both increasing the intensity of direct actions, for example by increasing the budget of advertising campaigns, as well as by intensifying indirect actions, like Mobile & SEO, bran awareness and mostly Content Marketing.
While increasing the budget for marketing activities is quite easy to carry out and evaluate – that is, to measure the effects, in this study we want to focus on indirect actions – which are much more complex and we will have to wait a bit for their effects.
Although optimization of SEO and preparation of valuable content to potential recipients may seem to be a long-term activity, invest in them, because the benefit may exceed the invested funds many times and the effects of these activities will be felt for a long time in the future.
Of course, we do not want to downplay the role and legitimacy of using direct actions such as paid campaigns or advertising in search results of web browsers. We would like to point out that optimization actions that translate into increased organic traffic have much greater potential and often allow to overtake competition in a different field than the advertising budget.
Our many years of experience in working with clients who have increased their area of ​​interest towards optimization activities shows us that even small businesses were able to compete with huge advertising agencies spending tens or hundreds of thousands of dollars per quarter on their promotion.
Efficient content marketing and promotion in social media is able to generate huge ranges even for startups or small businesses.
Where to start with Internet Marketing – which component should I look first?
The first stage of marketing activities should be a preliminary evaluation of the current situation component by component so as to have at least a superficial knowledge about the current state of your brand on the Internet – its strengths and weaknesses.
How to start with Internet Marketing – simple steps

Our approach to internet marketing assumes following a procedure based on 9 simple steps that should be carried out in the following order:
Website audit
Technical evaluation of the site
Fixing website problems and issues
Content evaluation
Content building
User behavior analytics
Landing page improvements
Starting Ad Campaigns
Other optimization activities

If in your company you create your own website or a person who does it, has no experience in SEO and SEM and if you conduct marketing yourself and do not use any agency then the first test will be to answer the question:
Did you do anything to optimize the site under technical angle, speed of action, you prepared content marketing, analyzed the appearance and indexing status of your site in the Google Search console, and so on?
If you've never dealt with the activities of SEO specialists then most likely your site requires a lot of activities to start with.
All subsequent activities related to buying a campaign or building a network of links should be postponed until you make sure that the site works correctly, quickly, its navigation is consistent and it has the necessary security, and the Google search console does not have serious errors.
The best way to find out what Google thinks about your site is to do a Google Search Console audit.
The implementation of the guidelines contained in the GSC audit results – in itself will bring tangible benefits to your site's position in search results.
Search engine engines promote pages that are being built in line with webmaster recommendations.
These will include, among others, all kinds of adaptation to mobile devices, compliance with content standards, ensuring adequate speed of operation, getting rid of duplicate content, using SSL certificates, managing HTTP 301 redirects, etc.
I have fixed all major errors and my site is all green in GSC – What next?
If you have successfully implemented all the recommendations listed in the audit of your site and Google search Console does not report any errors or suggestions related to the improvement of your site – then you are lucky man.
At this stage, you can start analyzing the keywords and phrases under which your business is found on the internet.
This is the content evaluation stage that should always be performed after the technical evaluation of the website's page.
At this stage, you can start to gather information about your target group, their interests and demographics. You can now outline a strategy to build content marketing to better meet your potential customers' tastes.
The topic of preparing content based on the Google Search console tips will be included in the second part of this article, which will be published soon.
Thank you for your attention.