Google Search Console Consultancy services
If you are looking for professional Google Search Console Consultant – here is the right place.
We can offer you our top product – complete Search Console audit of your web-page.
What do you need to order Google Search Console Audit ?
Fist and most important thing that you need to do before any of this – is to install GSC on your page to enable collecting index data from Google.
If you haven't installed this great tool from Google yet – you should do this as soon as possible – and here we tell you how to do it.
This service is crucial for your page optimization in the Google Search Engine and you could use to for many applications.
Main features includes:
error detection
mobile usability
XML Sitemap management
Google Crawl management
URL Submits
better understanding of Google Index
optimizations tips
organic search engine traffic analytics
audit & controlling of third-party SEO activities
You can use this service to get much more organic traffic and customer from the users of the Google Search site.

How to add your site to Google Search Console ?
We assume you have a Google General account (for YouTube,Gmail,etc) . If you haven't – you need to create it first at https://accounts.google.com
Next, go to https://search.google.com/search-console
and add your site using Domain prefix (the fastest way)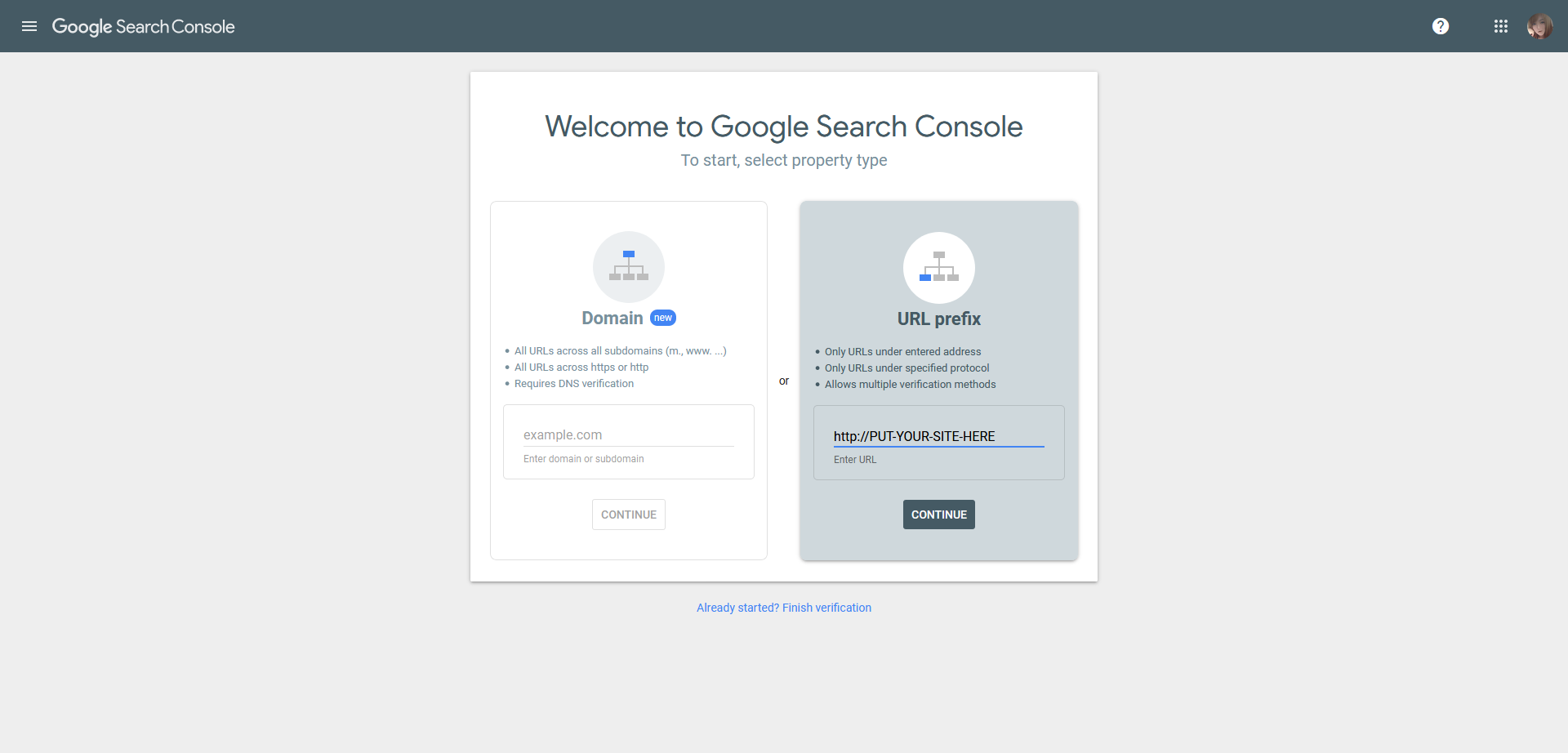 In next step you need to verify that site is yours. There are several methods for doing it:
by meta tag on your page – good if you have CMS based page like WordPress
by downloading file and uploading into your site – if you have direct access to your files using SCP/FTP protocol
by DNS record – if you have access to DNS zone of your site
However if you have problem with this step – just contact us – we can do it for free!
Last step is to share access with our Google Account – so we could access your site data and start our consultancy service.
How to use search console to get more traffic and better ranking in Google ?
Search Console is great but very advanced tool that could be confusing for non-SEO experts. However, since you install GSC on your page (by passing verification procedure described above) – all data is being collected and after few days or weeks you will have access to this set.
From this moment our professional team could help you to discover it's full potential of your site and gain more using data provided by Google Search Console.

We offer complex SEO Consultancy services based on the Search Console content, data and insights.
What is the Google Search Console audit service?
With this service you basically receive a detailed report on the presence of your website in Google search engine.
Among others significant data, we analyze key phrases under which customers reach your website,  the position of competing companies, problems and inconsistencies on the site, general indexing efficiency, demographics of visitors and sources of visits, etc. All those data will be carefully examined and prepared by our SEO specialists.
After completing the site audit, which lasts about a month (assuming that your site previously had access to Google Search Console), you will receive a detailed report on the status of the site and a set of tips and recommendations to improve its position in Google.
With our expertise and simple tips – you will be able to significantly increase the total amount of visits on your page coming from the organic source (Google web search in general)
How much cost this Google Search Console consultancy ?
The basic price for the complete audit and report is only 99 GBP
The service is provided by specialists from Machine Mind Ltd company registered in UK.
Of course you will receive an invoice for this service.
This is very low price for the great service and can give you great gain in your position in Google – without spending money for AdWords and other Adverts platforms.
How to order Google Search Console Audit ?
Please send e-mail with your site URL to adres: office@holikstudios.com